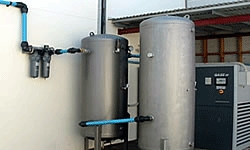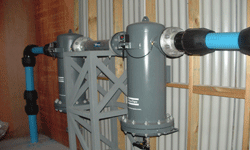 Installation of filters and pipework hooked up to receiver tanks.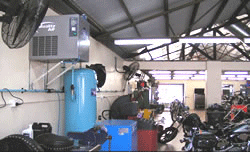 A complete Airline Installation
Package was installed at:
Rollies Speed Shop – Newstead, Brisbane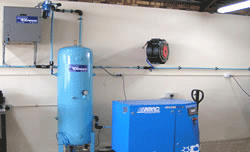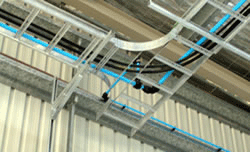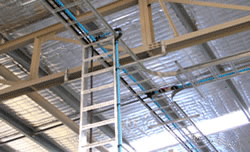 In these 2 examples (above) the pipe has been installed 12 metres high along the conduit runners. One of the many benefits of having airline installations is the pipe can be run wherever you require.
AIR LINE INSTALLATIONS
We enjoy helping you, make your workplace a tidier, cleaner more productive environment and we take great pride in our installation work.
The savings you will make in running costs and man time as well as the flexibility of the system will pay for itself in a very short time.
We use Compressed Air Pipe which is 100% U.V. stabilised, light blue in colour, easily recognised as compressed air and meets Australian Standards (4130).
We also sell a range of the compressed airline fittings.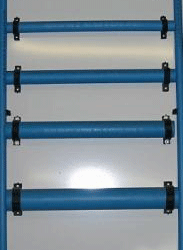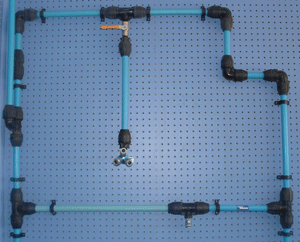 Identification of the contents of pipes, conduits and ducts
This standard relies fundamentally on a single colour identification system. For this reason, in selecting an appropriate colour, worker safety is one of the most important concerns.
The objective of the base identification colour is to provide immediate information as to the contents of the pipe.
The relative hazard of a potential contents leak or spill to operations and maintenance workers and more particularly, crews responding to emergency calls, will usually be the critical factor in determining which colour is appropriate in a particular case.
Air and other gases – the distinction is made between pipes carrying only air
(eg. Compressed, vacuum, ventilation) which will be Light blue, and all other gases,
including pneumatic transport of particulate solids, which may be yellow-ochre or violet.
Get A Quote 
Enquire now to get a free quote or contact us about the airline & air pipe range and installation services. We'll make sure that our air compressor specialists will get in touch with you soon!
Ph:   (07) 3881 0883
Email: sales@fittingsexpress.com.au
Opening Hours: Monday to Friday 8am-5pm